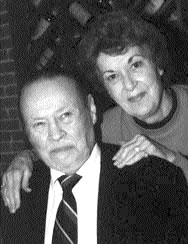 A long time friend.
Bob Klockie with his wife.
We will soon be adding photos from the recent "Tunes for Toomey", which was held in Springfield, Illinois, USA, on May 24, 2004. The night many of Toomey's friends along with his brother Phillip and wife Karen, all got together and had a party/benefit in honor of the "Toomster" on the day of his birth.
(As many of you know, Toomey never wanted to
celebrate a birthday...........forever young.)
The proceeds from "Tunes For Toomey" were donated to a few area hospitals in his honor. We will soon be posting the articles that were published in the Illinois Times and the State Journal Register.
There is talk about the "Tunes For Toomey" being a yearly event!